Collecting Vintage Glassware? What you Need to Know
May 31, 2021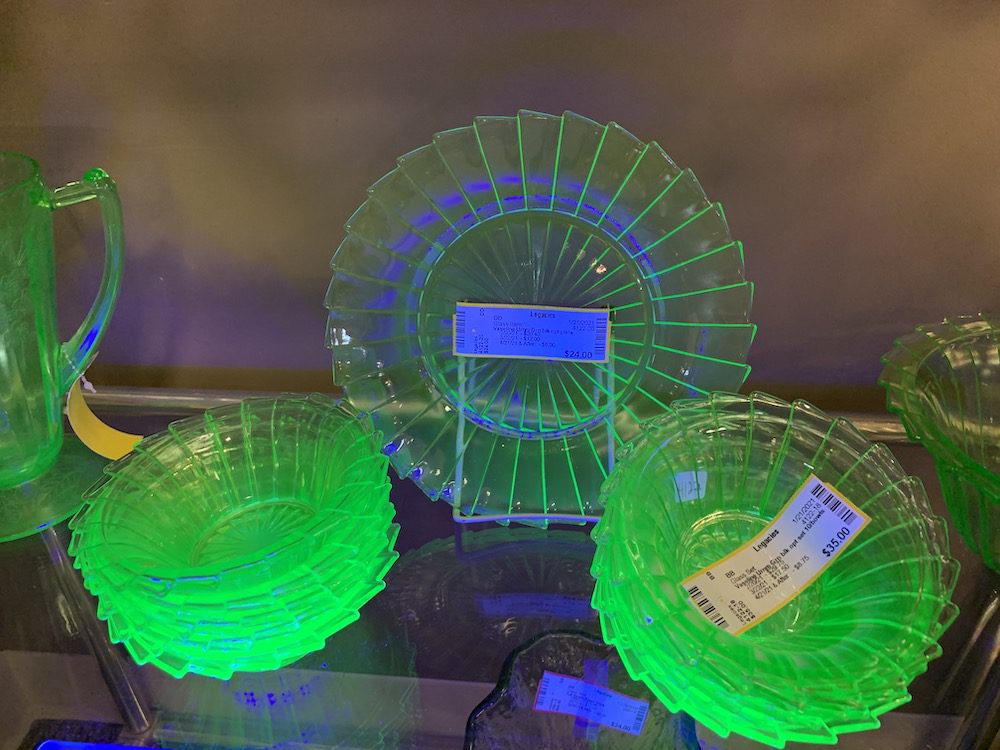 A popular category at Legacies Upscale Resale is vintage glassware from Pyrex, Fire-King, Corning and other brands.
Pyrex
Around 1910, Bessie Littleton acquired a wet-cell battery jar made with a new type of glass her husband, Jesse, had told her about. A research physicist at Corning Glass Works, Jesse was testing temperature-resistant glass for industrial use.
Bessie's favorite baking dish had cracked, and she wondered if she could use the battery jar instead. Jesse cut the jar down, and Bessie baked a cake in it. The discovery led to Pyrex cookware, launched in 1915.
A series of manufacturing advancements in the '20s and '30s made Pyrex cheaper to make just as patriotic, budget-minded homemakers came to prefer American-made kitchenware. Pyrex was clear glass until 1936, when opaque "opal ware" was brought to market. It became the white background to the bold colors and patterns popular among collectors today.
As interest in Pyrex grows, so does the value of certain patterns. Owning Pyrex doesn't mean you're sitting on a gold mine, but an unusual dish could be worth thousands. Gooseberry, Friendship, Butter Print, Dianthus, Starburst and pink Stems patterns are highly sought-after. Complete pink or turquoise sets also demand top dollar.
Pyrex was, and still is, produced in the United States, Canada, England and Australia. Each country produced original designs that are collectable. Look for stamps or labels with "Made in…" markings. Brand names like JAJ (England) and Agee (Australia) also reveal origin.
With options at every price and in a myriad shapes, sizes and colors, all collectors can find Pyrex pieces to suit their taste.
Fire-King
Created by Anchor Hocking, Fire-King is similar to Pyrex. The brand's Jade-ite, an opaque green glass produced from the '40s through the '60s, got a boost from Martha Stewart in the '90s when it first appeared in her magazines and TV shows. Prior to that, shoppers could walk into an antique store and pick up Fire-King's Jane Ray pattern in Jade-ite at a reasonable price.
The square Charm dinnerware pattern came predominantly in opaque Azur-ite, Forest Green, and Royal Ruby. It is easily recognizable from its shape.
Sapphire Blue ovenware is highly-prized for its beauty. Anchor Hocking manufactured this glass from 1942 through the '50s. Dinnerware produced in Sapphire Blue is referred to as "Philbe." Once you learn to recognize the color, it is easy to spot.
Another popular pattern is Game Birds. These pieces feature decals depicting different types of fowl on white glass mugs, plates, tumblers and bowls.
Affordable alternatives are the flowered Fleurette, Honeysuckle, and Primrose decals on milky white glass dinnerware sets.
The Meadow Green pattern is the least expensive. This white glass, produced from 1967 to 1977, has an avocado green floral pattern.
Corning Ware
Corning Ware is a combination of glass and ceramic called "Pyroceram" accidentally discovered by Dr. S. Donald Stookey at Corning in 1953. He was working with photosensitive glass and put it in an oven to heat it to 600 degrees F. When he checked it, the oven was at 900 degrees.
Stookey pulled the glass out with tongs but dropped it. It reportedly hit the floor and bounced unbroken, and Corning Ware was born. It became available in 1958 in the Blue Cornflower pattern, which is still popular. Later came Floral Bouquet, which was released in three varieties between 1969 and 1974, and many other patterns.
Rare sets of Corning Ware in uncommon patterns can pull $1,000 or more. We can't promise you that kind of return, but if you like Corning Ware, it is worth a visit to Legacies to see what's in stock.