Identifying Your China Maker, Pattern and Value
March 27, 2021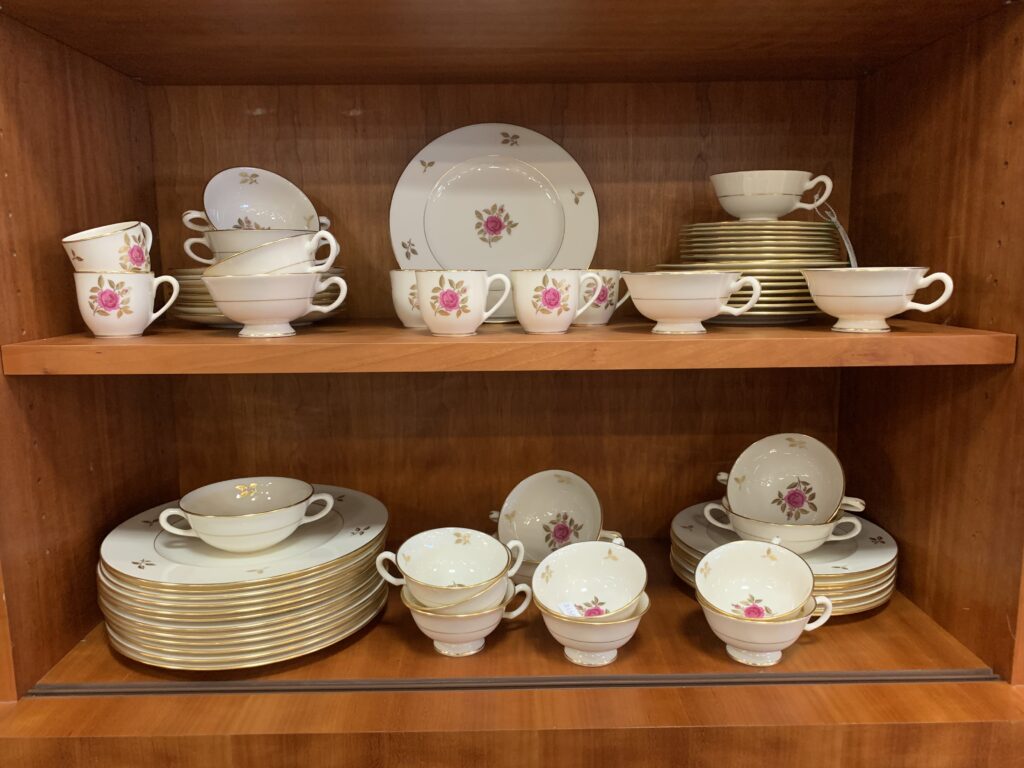 If you have acquired heirloom china or glassware, you are probably wondering the name of the manufacturer and the pattern name—along with whether your possessions are of particular value.
Here are some clues:
The Type
There are three main kinds of porcelain, which we Westerners call "china." Knowing the production process used to make your pieces will narrow down your pattern and its vintage:
Bone china was first made in England in the mid-18th The process involves adding bone ash to finely-ground stone and clay. The tea sets, vases and dinnerware made from this process are delicate and thin.
Hard-paste porcelain– This type of "china" was actually originally actually made in China. It included ground alabaster and kaolin, a clay mineral including silicate and alumina. Hard-paste porcelains made today may include quartz as well. Germans started making tableware items from this material in the early 1700s.
Soft-paste porcelain– Later, Europeans used a softer clay, often from the Limoges region of France in the southeast. 
Translucency, Color and Sound
If you can see light coming through the piece when you hold it up, it is probably bone china. Bone china is often more ivory-colored than white. White china is usually hard- or soft-paste porcelain. Tap the edge of your piece with a coin. If it makes a high-pitched sound, it is probably hard-paste.
The Backstamp
What we consider "fine" china usually has a mark on the back identifying the manufacturer. If there are two marks, one may be the manufacturer and the other the painter/glazer. Backstamps provide a clue as to the date of china, because historically, manufacturers changed stamps frequently. Using a magnifying glass, you can see the writing on the mark. Or use your phone to take a picture and enlarge it on your computer.
There are websites that can help you learn more about your china once you have the backstamp.
Kovels has an extensive library of backstamps. Search by mark shape, initials or full names on the stamp.
Gotheborg has photos of marks and details about the manufacturers.
Very early bone china piece may not have a backstamp. If yours does not, a  professional appraiser can help identify the pattern and estimate its value.
Details
Looking at the following details can also help narrow down the pattern, once you have determined the manufacturer:
Gold or gilt edging
Colors of the dishes themselves or paint on the dishes
Images like flowers, Asian motifs, people, birds or animals
Go Online
Once you have all of the above information, websites can help establish the name of your pattern.
Try these sites: Replacements.com for all manufacturers and National Shelley China Club, Meissen China Patterns, Robbin's Nest Noritake Directory, The Spode Collection or Haviland Online for specific manufacturers.
How Old is It?
Some patterns have been in constant production for decades or centuries. The backstamp can help you figure out when and where the piece was produced. Use the backstamp sites given above to compare yours to the stamps used by the manufacturer at different times.
How Popular is It?
Certain china patterns stand the test of time and have remained popular with collectors for centuries. These are some of the most desired patterns:
Spode's Blue Italian
Meissen's Ming Dragon
Royal Copenhagen's Flora Danica
Deruta's Raffaellesco
Finding China of Beauty and Value at Legacies
It's fun to shop for china at Legacies Upscale Resale in Cincinnati, because we often have quite a variety. Whether it is valuable in the minds of collectors or not, you may find a pattern you love, and your "new" dishes will become priceless possessions.