Making the Most of This Year's Must-Have Accessory: The Brooch 
August 1, 2023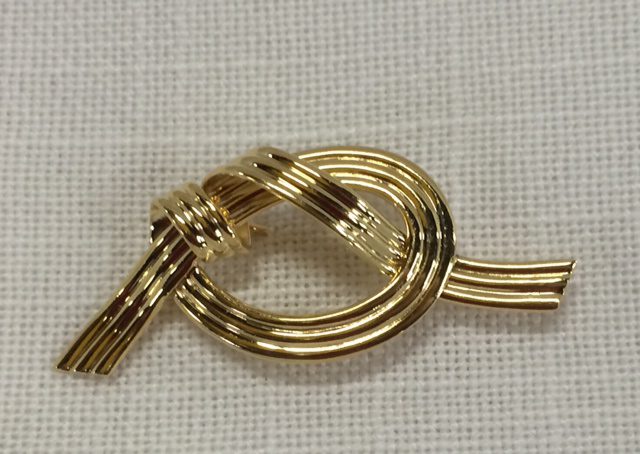 Brooches, which go back to the Bronze Age, are making a comeback—for both men and women. In addition to people like Madeleine Albright, who made the brooch her signature fashion accessory, stars like Nick Jonas, Bella Hadid and Kendrick Lamar have been sporting them as well.
Puerto Rican fashion journalist Frances Sola-Santiago shared some thoughts about brooches' popularity in her March 23 post:
"According to The RealReal's 2023 luxury consignment report, demand for brooches was up 27% during the 2022 holiday season, while pins from Gucci were up by 70%.
On TikTok, creators are discussing the sartorial possibilities of brooches, beyond regal, bedazzled versions worthy of an appearance on The Crown, with the hashtag #brooch gathering over 100 million hits. They're also popping up on the runway: Take, for example, Jil Sander's spring 2023 collection, which included silver pins worn on oversized, simple shirts, while Acne's lineup featured ribbon pins worn as nipple covers, hinting at the DIY nature of today's balletcore and kitschy "Weird Girl" aesthetics.
Most recently, Gucci also included modernized brooches in its fall 2023 collection: A bright blue sleeveless turtleneck was made bolder with draped pearl strings that closed up in a diamond-encrusted brooch, while a Gucci logo pin was worn over a classic fur coat."
Luckily, you can find awesome brooches at vintage jewelry stores like Legacies Upscale Resale at reasonable prices to get in on the trend.
There are lots of hip ways to wear a brooch. Here are a few inspired by ideas shared on Hallie Abrams' Wardrobe Consultant site:
The Big Brooch
Big brooches seen on big names' clothing recently included a starfish, a cactus made by Dior and a blue flower. Some use magnets in lieu of a pin, so you don't make holes in your upscale tops.
Bunch Your Brooches
Bunch several brooches of a similar color, motif or stone together on your lapel.
Add a Brooch to a Necklace or a String of Pearls
Hang one or more brooches on a necklace or strand of pearls. A chunky chain will balance a large brooch.
Put One on Your Bag
Similar to tying a scarf on your purse, adding a brooch gives your outfit pizazz without making the commitment of adding it to your clothing. Pin it on the bag if the bag is cloth, or around the strap if not.
Accentuate a Knot
Add a brooch to a top with a top, jacket or dress that ties at the waist to draw attention to the tie. If you tie the fabric in a square knot, the brooch will lay flat.
Secure a Shawl
Attach a brooch to your shawl to hold it in place. Put the pin through the shawl and your garment underneath—even through your bra strap to keep it totally secure.
While overall fashion trends are moving in the direction of minimalism, brooches are the exception. Add a little bling to a suit or monochromatic outfit with a stunning brooch from your favorite jewelry consignment shop>.