Saving on Waterford Crystal at Legacies
August 30, 2021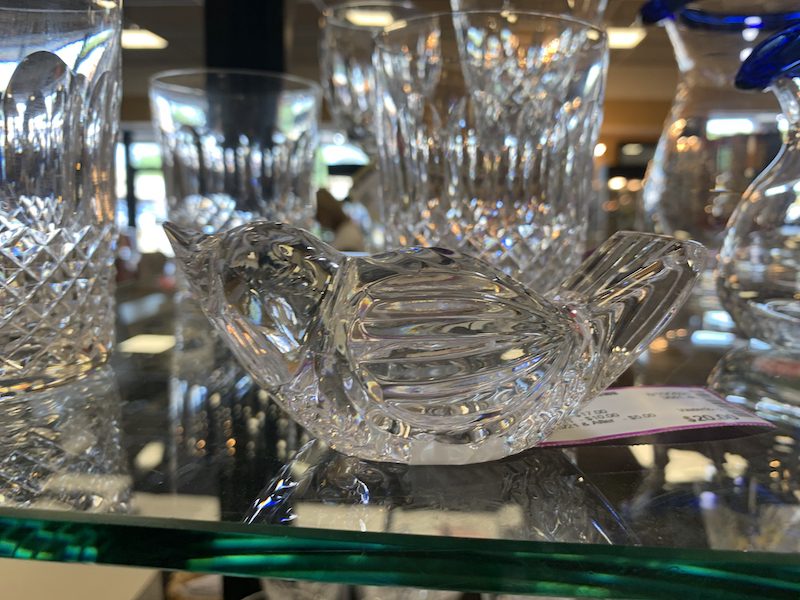 Waterford crystal has defined elegance since the company was founded in Ireland in 1793. Today, their offerings include glassware, serving pieces, cutlery, vases, bowls, photo frames, clocks, candleholders, lanterns, desk accessories, dressing table items (like ring holders and perfume bottles) and more.
At any one time you can a wide range of these collector's items at Legacies Upscale Retail shop in Cincinnati's Hyde Park Plaza.
The Story of Waterford
There is archaeological evidence of glass being prized as far back the Iron Age, about 500 BCE. Medieval documents prove that glass-making was an Irish tradition from as early as the 13th century. What happened between 500 BCE and 1,200 CE is not known, but it is crystal clear that the Irish have long had a talent for the craft.
The Waterford Crystal company propelled primitive glass-making processes into luxury crystal manufacturing:
Beginnings
Waterford was established in 1793 on land adjacent to Merchants' Quay in the Irish harbor town of Waterford. Founding brothers George and William Penrose had a vision of profitably creating the finest quality crystal drinking vessels, along with objects of beauty for the home.
Closing and reopening
The Penrose brothers' crystal was immediately prized for its clarity and purity of color. They were successful well into the 1800s. But in 1853, the factory fell victim to economic events not dissimilar to today's business trials. The company closed.
Waterford's story picks back up in 1947, when Kael Bacik named Czech countryman Miroslav Havel Chief Designer of his "green" Irish glass-making company. Havel studied surviving examples of Waterford crystal at the National Museum of Ireland.
A best-selling pattern
Those patterns became the design foundation for the new company, which took its name from the original Waterford company as well. In 1952, Havel created the Lismore pattern, the world's best-selling crystal pattern ever.
Partnerships with designers
Waterford collaborations and partnerships with leading designers have elevated their products to the peak of excellence and sophistication, creating a wide range of dining, desk and home décor options.
Why Choose Waterford Crystal?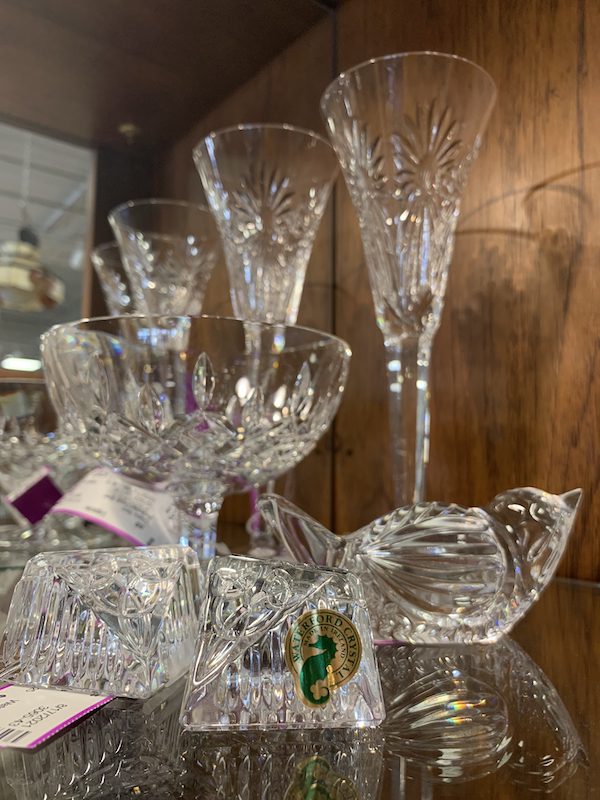 Waterford is the most-collected brand in the world. Many people don't even use their Waterford pieces, they consider them so valuable!
Crystal is a type of glass. There are three main criteria for crystal established by the European Union (EU) in 1969:
1. a lead content over 24%,
2. a density of more than 2.90, and
3. a reflective index of 1.545.
Waterford sticks strictly to these guidelines, but outside the EU, this definition is usually disregarded. In the U.S., any glass with more than 1% lead content is called crystal.
The minerals used in crystal strengthen it, making possible the thin, yet durable character of crystal glassware. But glass tends to be stronger than crystal, which is why crystal is often reserved for special occasions.
The lead in crystal makes the glass soft, allowing for the formation of detailed patterns and designs you don't find in glass glassware.
Buying Waterford at Legacies Upscale Resale
Waterford items are frequently given as wedding, anniversary, graduation and new baby gifts. They are used only on special occasions and are virtually indestructible, so when it comes time to downsize, many people need a place to pass on the Waterford they have owned for decades.
The main difference between buying Waterford at retail stores and at consignment shops like Legacies is price. We exist to raise money for the Cancer Support Community (CSC). We take no profit and all our salespeople are volunteers.
Because our Waterford pieces are difficult to distinguish from new, customers can dress their tables and homes with grand elegance—without breaking the bank.