Turn Your Entertainment Armoire into a Chic Bar 
June 1, 2023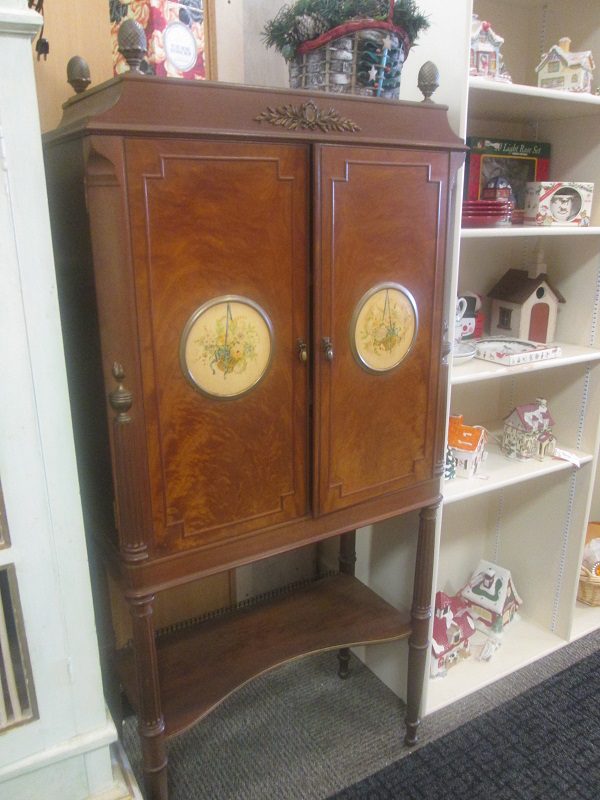 Repurposing furniture is a hot way to save landfill space, reduce decorating expenses and give your home a unique look.
Entertainment armoires are a popular piece to repurpose. Your old one, or one you can find at Legacies Upscale Resale, one of Cincinnati's best furniture consignment shops, can become sewing centers, scrapbook or craft stations, stand-alone pantries or simple garage storage spaces.
Another extremely popular idea is to turn your armoire into a chic bar.
Before you start tearing your armoire apart, or looking at used furniture stores for an inexpensive, gently-used one, review these ideas adapted from a SFGate article for how you might use each part of it:
Start with the Main Area
The center area is perfect for displaying liquors.
Line the shelf with self-adhesive shelf paper, or coat it with a protective clear polyacrylic to guard it from moisture.
Place a shelf with several rows along the back to house extra bottles, keeping everything in sight.
Keep the shelf front clear for drink-making.
Put an ice bucket off to the side if want, and keep a few frequently-used bar accessories here also.
Cleverly Add More Storage
Mount a glass rack or t-shaped transition strip along the underside of the shelf above the main bar area.
This option keeps delicate wine glasses and other stemware close at hand, yet out of danger of being tipped over.
Use the upper shelf to store the rest of your glasses. If there is no upper shelf, remove a bottom one and install it above the main bar. This creates an open space for mixers at the base of your armoire.
Make Space for Wine and Mixers
Slide a wine rack into one of the lower cabinets, or install a small wine cooler if there is enough space.
Reserve one shelf or section for mixers.
Keep things visible with another tiered shelf, or line mixers up by type.
Remove shelves as needed to achieve the height required to accommodate these items.
Finish with Accessories
Install towel racks on the door backs or along the sides to keep bar mops at hand.
If you place the armoire close to an outlet, you can drill a hole in the back for light or small appliance cords.
Illuminate shelves with spotlighting puck lights or rope lights to make preparing drinks easier.
A classic bar sign along the back or a few cocktail books displayed on a shelf make nice decorative touches.
Here are a few more ideas from House Beautiful:
To reconfigure your piece, buy premade shelves, brackets and hardware to fix it up yourself, or you can hire a carpenter.
Paint the outside a hip color. Swap or paint the hardware. Wallpaper can embellish the back.