Vintage Jewelry Trends in Vogue Right Now
November 1, 2023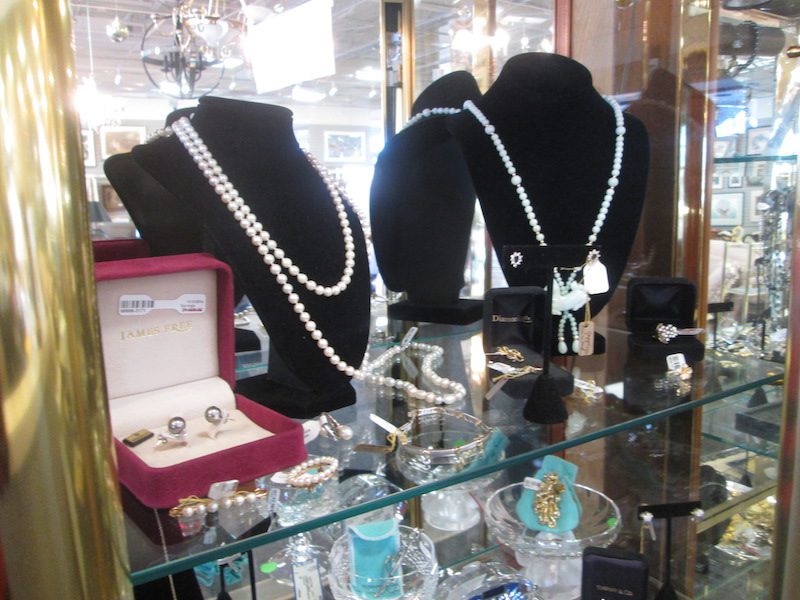 Vintage jewelry has captivated fashionistas for decades. Pieces from the past in good condition stand out and add a touch of elegance. Here's what's hot in vintage jewelry Cincinnati now:
Ornate and Sentimental: Victorian Revival
Victorian era jewelry made from the mid-19th century to the early 20th featured intricate filigree work, cameos, lockets and pieces with nature motifs like flowers, leaves and animals. During the craze for archaeology in the late 1800s, Victorian jewelers created Ancient Egypt-inspired pieces.
Victorian Revival pieces — imitating Victorian style — became popular in the 1950s and '60s. Today, cool people bring these pieces into the 2000s by layering different lengths of chains, adding pendants, lockets or brooches to chains, or wearing several gemstone necklaces together (matching the gem hues and tones, of course).
Flowing: Art Nouveau
Coming hot on the heels of the Victorian era, the Art Nouveau movement from the late 19th century to the early 20th was characterized by flowing lines, organic motifs and a celebration of nature. Art Nouveau jewelry often has intricate floral designs, enamelwork and pearls, opals and colored gemstones. Pieces from this time, such as pendants, brooches and hair ornaments, have a delicate and romantic aesthetic.
Chic and Urban: Art Deco
This exciting period in art, architecture, furniture, jewelry and fashion represented a dramatic change. Known for unique shapes in vibrant and contrasting colors, Art Deco jewelry designs were borrowed from architecture — with bold, geometric patterns, straight lines, squares, triangles, arcs and pyramids (goodbye flowing lines!). Precious gemstones like diamonds, emeralds and sapphires were hot.
Pieces from this era, including long pendant necklaces, cocktail rings and geometric bracelets, exude jaw-dropping sophistication. Depending on how they are worn, items from this period scored at a vintage jewelry store like Legacies Upscale Resale can even be used in your bridal ensemble!
Abstract: Mid-Century Modern
The mid-century period from the 1940s-1960s brought a further evolution to cleaner lines, innovative materials and abstract shapes. Mid-century modern jewelry uses minimalist designs, asymmetry and silver, gold, copper, pearls and colorful gemstones. Designers put the optimism and opulence of the post-war world into their work. Pieces we carry include chunky bracelets, oversized cocktail rings and sleek pendant necklaces.
Glamourous and Luxurious: Retro Glamour
The Retro period, also known as Hollywood Regency, dovetailed with mid-century modern, and was most influenced by Hollywood's Golden Age (think Bette Davis, Clark Gable, Marilyn Monroe and Cary Grant). Retro jewelry features bold, oversized designs with a mix of gemstones, including aquamarine, citrine, amethyst and topaz. Retro pieces found at Legacies include eye-catching cocktail rings, wide bracelets and chandelier earrings.
Free-Spirited: Bohemian and Hippie
The hippies loved their jewelry as much as any other generation, but they wanted it inspired by nature and as rebellious as them. Designers met that desire by incorporating natural stones, feathers, shells and beads into their work. This jewelry embraced a relaxed, unconventional style, with long pendant necklaces, layered bracelets and large hoop earrings.
Chokers and ankle bracelets were big in the 1960s as well. Fantastic bold creations were made from budget plastic (remember Twiggy?). To rock these styles today, try mixing metals, wearing pastel pearls, choosing oversized earrings or going monochrome.
Space Age: Retro-Futurism
As you might guess, this trend, also started in the 1960s, focuses on space-age and futuristic designs. Jewelry often features bold shapes, metallic finishes and innovative materials like Lucite, plastic and resin. Look for chunky bracelets, oversized statement necklaces and geometric earrings to build your own unique, edgy style.
You can have a lot of fun wearing and/or collecting vintage jewelry. Shopping for special pieces at used jewelry stores like Legacies in Cincinnati is, in itself, a great pastime!