Is There a Good Consignment Shop Near Me?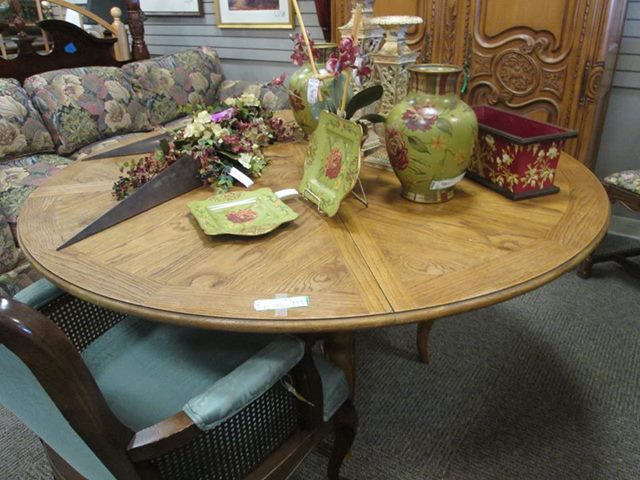 Have you ever wondered, "Are there any high-end consignment shops near me?"
Well, if you live/work/play in central or Eastside Cincinnati, there IS a GREAT consignment shop nearby!  Tucked into Hyde Park Plaza, Legacies Upscale Resale is a store full of gently-used furniture, handbags, scarves, jewelry, watches, art, home décor, kitchenware, garden tools and more.
More Than Surprises and Bargains
Our merchandise could be called "Luxury Eclectic." You never know what gems are hiding in plain view, and the offerings change weekly. Everything is in like-new condition and priced to sell quickly.
Best of all, your purchases help support cancer patients and their families.
We're the only consignment store in the area that provides a generous split with our consignors, and supports a wonderful charity, with our half of proceeds going to Cancer Support Community.
Why Buy from a Neighborhood Consignment Shop?
Shopping at a nearby local consignment store where upmarket neighbors offer prized possessions is a fun way to spend an afternoon. But there's more to Legacies than entertainment:
Deals, deals, deals. We offer value department stores can't touch. Consignors want cash from high-quality possessions they are selling sooner rather than later, so they are usually open to our friendly pricing.
Unique pieces not available elsewhere. To create a look all your own, you can't shop where everyone else is going. We offer a rare combination of pre-owned antique, vintage and contemporary items, all in excellent condition.
Bygone materials and craftsmanship. It is true: they don't make 'em like they used to.
Like-new or new furniture. Most of our merchandise is gently-used. But sometimes we get items people bought and then decided against after the return deadline. They don't want to trash brand new furnishings, so they bring their merchandise here for us to sell for them.
Classy merchandise. We don't take garage-sale rejects. Only items that are both in good condition and desirable make the cut for our customers!
In Cincinnati, there's ordinary consignment, then there's Legacies. Even if we aren't your closest consignment store, we're never too far and the trip will be worth it, we promise!