Used Furniture Stores Near Me? It's Legacies!
Looking for a High-Quality Used Furniture Store Nearby in Cincinnati?
Look no further than Legacies Upscale Resale in Hyde Park.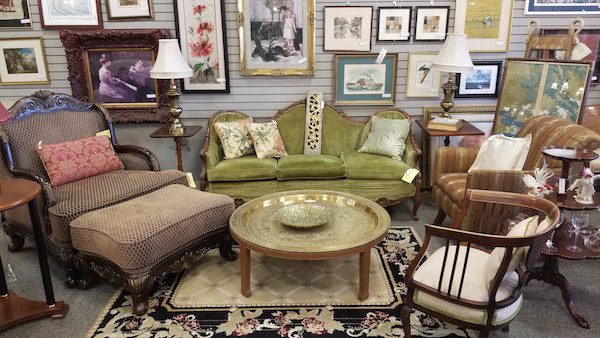 We sell gently-used antique, vintage and contemporary furniture at great prices, for a good cause.
Legacies' proceeds, including our half of sales from consignment items, go to Cancer Support Community of Greater Cincinnati and Northern Kentucky (CSC). CSC offers FREE support groups, cooking classes, and lifestyle workshops to people affected by cancer and their families. So when you shop with us, you are helping ensure nobody faces cancer alone.
Furniture Close to You in Great Condition
Legacies is conveniently located in Hyde Park Plaza between I-71 and Downtown Cincinnati. Since our priced-to-sell merchandise moves quickly, many customers visit on a regular basis. If you are in the Cincinnati area, whether you live here or you're just visiting, Legacies might be just the place to get a great deal on used furniture near you.
Furniture In Your Style—or Ready to Repurpose
We offer a wide range of furniture styles in top condition. If you want a special piece to make a statement in your home, or are searching for just the right item for that upcycled furniture project you have in mind, you owe it to yourself to check out our ever-changing inventory.
Come and explore Legacies' spacious Cincinnati showroom, where you'll discover one-of-a-kind items not available in other stores. A vintage chair, Mid-Century Modern dining room set, or contemporary couch in a quirky color may be yours for a surprisingly reasonable price.
If the price is right but the color or another element is not quite YOU, search on Pinterest or TikTok to figure out how to repurpose it to your taste.
We have armoires, bookcases, chandeliers, curio cabinets, decorative screens, lamps, art, photos, frames, Parson's chairs, rugs, decorative items and more. There's always something new at Legacies, because we reset our vignettes every week.
Well-Crafted Furniture at a Friendly Price
How do we keep our prices so low when our quality is so high? Our overhead is low with a mostly-volunteer staff. Motivated sellers, divesting of beloved possessions because they are moving, redecorating, or have inherited items they can't use, like to know their items will have new life furnishing a neighbor's home in style.
Consignors also like helping people affected by cancer, and are therefore usually amenable to our friendly pricing. No one is taking a "profit," so the normal retail markup is non-existent.
Our Quality is Often Better than New
Used furniture can be a smart investment. If well-constructed, many types look great, are comfortable and function well even after decades of use. Much of the furniture we offer is made with bygone craftsmanship, so you often get longer-lasting quality when you buy here than you can with new furniture.
As the saying goes, "They just don't make 'em like they used to." With 25 years of experience selling previously-owned furniture, we can attest to the truth of that statement.
At some used furniture stores, you have to be careful of a "too-good-to-be-true" price tag. As an upscale resale store, Legacies only puts out items in good repair that we would be proud to have in our own homes.
Even if you are going to makeover the item you buy, you want it to be sturdy enough for the new use to which it will be put. No one wants to spend hours repurposing a cabinet that isn't strong enough for the bottles and glasses it will need to hold retrofitted into a cocktail bar!
Legacies is Open When You have Time to Shop
It is hard to appreciate the quality at Legacies until you see and touch it. We're open Tuesday-Sunday. We restock on Mondays, but on every other day of the week, you will find friendly, knowledgeable volunteers ready to help you select the perfect centerpiece for your existing décor or upcycled vision.
And remember, we have much more than just furniture in our consignment shop!
Stop by any time Tuesday-Saturday from 10-5, and Sundays 12-5.
"Where's a Used Furniture Store Near Me?"
We've got you covered, and Hyde Park Plaza has tons of parking. Stop in soon!
Legacies Upscale Resale
Hyde Park Plaza
3854 Paxton Ave.
Cincinnati, OH 45209