Having Fun While Shopping For Vintage Gems in Cincinnati
In the market for vintage jewelry or vintage furniture in the Cincinnati area?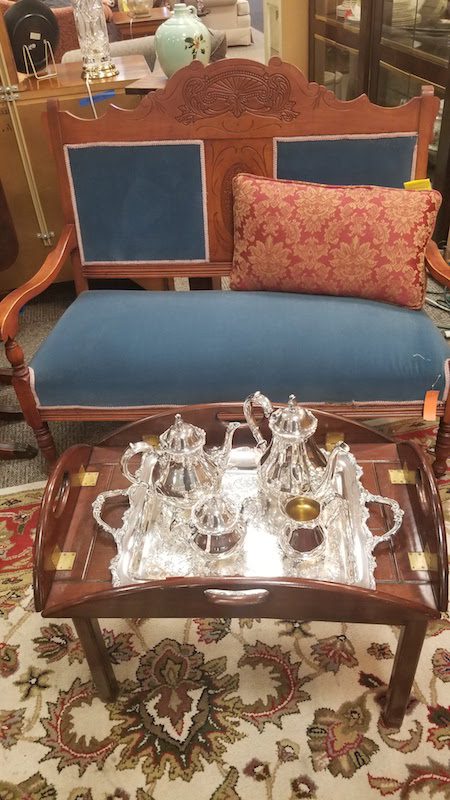 One place you may not have thought to look is Legacies Upscale Resale in Hyde Park Plaza.
Along with contemporary items, Legacies sells vintage jewelry, vintage furniture, art, kitchenware, rugs, crystal, home accents, and much more.
Browsing for treasure here is a great way to spend a lazy afternoon, and has value beyond the deals you can find. We take certain items on consignment or by donation. Proceeds go to The Cancer Support Community of Greater Cincinnati and Northern Kentucky (CSC). CSC provides FREE support groups and educational programming to people affected by cancer. So when you buy from us, you are helping others in our very own community.
Our Vintage Merchandise Is In Great Condition
We only accept specific items, and they must be in good condition. Because of this, our inventory and pricing may be very different from what you see at your average Cincinnati vintage store. How can we do that? Consignors come to Legacies instead of other consignment shops in Cincinnati because they want to make a difference, and they know that purchases at Legacies benefit Cancer Support Community.
Because everything is high quality at reasonable prices, our vintage merchandise moves quickly. So if you don't see anything you want the first time you stop by, try again! We are closed every Monday to restock, so there's always something new on the showroom floor. You can also see some new items available for sale on our Facebook page – but remember, they go quickly! So make sure you Like our page and follow along!
What kinds of vintage items might you find at Legacies?
Vintage Furniture
Elegant furnishings such as armoires, bookcases, chandeliers, couches, curio cabinets, decorative screens, desks, dining room sets, lamps, chairs, and more. Your vintage furniture is here at Legacies!
Vintage Jewelry
Jewelry in silver, gold and platinum such as rings, necklaces, earrings and bracelets; pearls, diamonds and gemstones in breathtaking settings. Looking for vintage jewelry jewelry in the Greater Cincinnati area? Stop by Legacies!
If they have been well cared for, many types of older, vintage furniture and jewelry hold their value, and can look new. But their quality and style are often distinctive. You can't find the kinds of treasures we have on the Legacies floor at regular retail establishments. Furniture and jewelry are simply not crafted with the same quality of materials and skill as things made years ago.
What do customers like about shopping at Legacies?
You never know what you will find. We are always bringing in fresh stock.
No pressure. Because our staff members are volunteers, there is never any pressure to buy.
Wide variety of merchandise. On any given day, we may have china, copper molds, cookbooks, drapes, outdoor furniture, wine glasses, garden tools, purses, handmade pottery, or even a grand piano!
Unique items. We carry things you won't find elsewhere. Donors and consignors provide cherished items they can't use anymore, that may have been in their homes or their parents' homes for decades.
Gently-used or never-used items. We often get gently-used items that were in a rarely-used guest room, for example, or things that have never been used. Sometimes donors buy an item for a little-used room and later decide it just isn't right for the space, or doesn't fit their redecorating scheme. The date to return is long past, so they come to Legacies, where they know it will be attractively displayed for quick sale.
We're open every day except Monday (our restocking day), so stop in the next time you find yourself in the Hyde Park / Oakley area of Cincinnati. We may have something exquisitely vintage with your name on it. If not, you'll have a good time looking!
Legacies Upscale Resale
Hyde Park Plaza
3854 Paxton Ave.
Cincinnati, OH 45209