Shopping Local for Your Home in Cincy 
September 1, 2022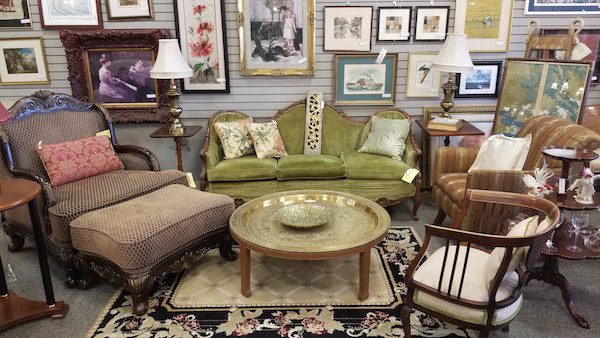 We're all trying to shop locally more often these days. Not only is it good for the environment and the local economy, but you can often find things in small locally-owned stores not available at the big box warehouses.
One of the most unique places to get retail therapy in Cincinnati for your home is Legacies Upscale Resale in Hyde Park Plaza. We sell a wide variety of furniture consignment and jewelry consignment items, as well as kitchenware, framed art and other home decoration items.
Where else in the Queen City can you find Spode's Blue Italian China, Waterford crystal vases, Jadeite cookware, Stickley chairs, Mid-Century Modern couches, Hermes scarves, Coach handbags and Lladro figurines—all in good condition at excellent prices?
Luxury Eclectic
When you spend time in Legacies, you'll often walk out with something you didn't even know you were looking for. We call our style "Luxury Eclectic," because we sell higher-end items of all vintages that somehow work together in customers' homes.
You never know what gems are hiding in plain view at Legacies, because our merchandise is priced to sell and moves quickly. A Henredon end table you saw last week will probably be gone this week, but you might find a Baker dining set even more to your liking!
Furnishing your home with one-of-a-kind items you can only find at Legacies is a great way to ensure a décor all your own.
Durable furniture from top brands will make a statement in your living room, especially if accessorized by a small piece like an antique globe, a set of copper tin molds, or an Art Nouveau lamp.
Many classic styles are back on trend, and you can find a number of them at Legacies. When people downsize or remodel, their family china and silver, Swarovski Christmas ornaments, and 1970s cabinets often end up at Legacies, because their former owners know their treasures will go to good new homes.
Shopping For A Cause
Every item on our floor is either consigned or donated. One hundred percent of our donations, and 50 percent of our consignment proceeds go to Cancer Support Community (CSC), which supports people with cancer and their families with non-medical services to improve their quality of life.
Most of our sales staff and support members are volunteers, so every penny of profit goes to the 200 programs CSC provides monthly.
Shopping Legacies is having fun for a good cause.
Dress Your Home…and You!
The exceptional items sold at Legacies run the gamut from furniture to earrings and garden tools to watches. After a visit to Legacies, your dinner party table—and you—with both look amazing!
Everything is upmarket. Only items we know will appeal to our discerning clientele make it onto the Legacies floor.
Why Choose Legacies?
Browsing through our beautiful showroom is time well spent. You'll find:
Deals not available elsewhere—and our prices are great!
Furnishings to create a distinctive look—our merchandise is simply not available elsewhere
Variety you don't see in typical retail stores—we have armoires, bookcases, curio cabinets, chandeliers, decorative screens, art, photos, rugs and more
Bygone materials and craftsmanship—when you buy vintage, you are extending the life of a standard of excellence not found in furniture and jewelry made today
New and like-new items—sometimes people buy something, and then decide they don't like it. Selling on consignment at Legacies, they can get some of their investment back, even if the return date has passed
Around Cincinnati, there's consignment, and then there's Legacies Upscale Resale. Stop by when you're in the neighborhood; you won't regret it! We're open every day but Monday.