What's a Fair Price for Lladró Figurines?
July 12, 2021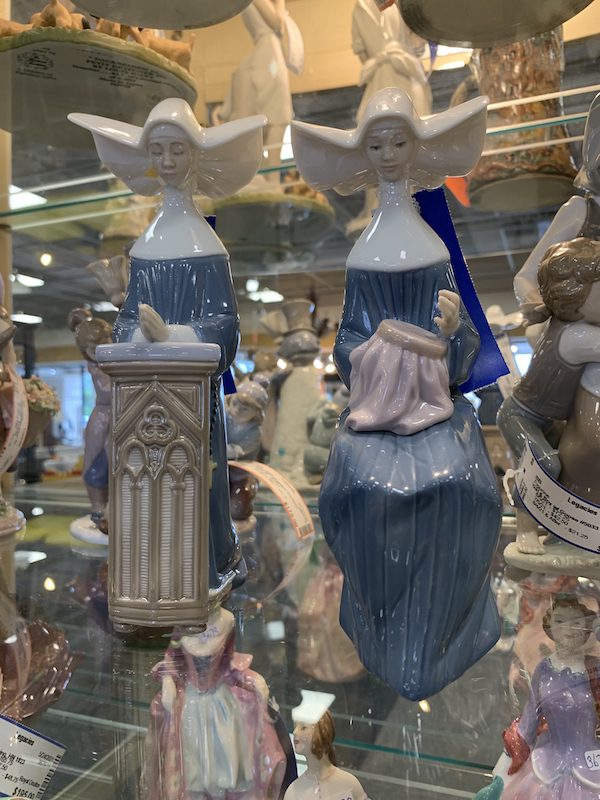 Lladró porcelain figurines are delicate, handmade statuettes created in Valencia, Spain between the 1950s and today. Bought new, the figurines cost anywhere from $100s to $1,000s. The highest price ever paid for a vintage Lladró was $130,000 at auction.
Lladró designs illustrate life's precious moments, which may account for the statuettes' collectability. The company offers limited edition figurines for the collector's market, but has added decorative items and home fixtures in recent years.
History
Lladró is the story of three brothers with a passion for porcelain. Opening shop in Almàssera, Spain, in 1953, Juan, José and Vicente first made plates, vases and ceramic figurines inspired by the works of European sculptures Meissen, Sèvres and Capodimonte.
The company opened its first retail store in Valencia in 1955, with the first factory following in 1958. Today, the factory covers a million square feet and employs 2,000 people.
Designed in glossy, pastel colors, Lladró figurines embody nostalgia and charming human feelings. While many pieces are displayed in ordinary household curio cabinets, some of the most intricate pieces are found in prestigious museums around the world.
Finishes
Glazed pieces have a glossy finish, and are most popular with collectors.
Matte figurines are not glazed. They are either painted or completely white (bisque). Most matte pieces were retired in 1991 because of low sales. Only highly-popular pieces are offered in both glaze and matte today.
First available in 1970, Gres pieces are made with a different type of porcelain. These figurines feature terra-toned pigments that make them look like pottery or stoneware.
Popular collections
Capricho: Lacy, delicate pieces created between 1983 and 1991.
Elite Limited Editions: Pieces with elaborate details, first available in 1974.
Goyesca: Inspired by Spanish artist Francisco Goya.
Lladró Society Members: Available only to club members from 1985 to 2000.
Privilege: The next generation of "Society" pieces, made from 2001 to 2010.
Black Legacy: Designed to celebrate African-American culture, initially called "Black Heritage."
Christmas: This large collection has ornaments, tree toppers, nativity scenes, bells and statuettes.
Legend: Introduced at the end of the 1990s; features porcelain coupled with gold and precious stones. The collection includes fairies, elves, and angels.
Re-Cyclos: Introduced in 2005, these are new items from important designers.
Determining authenticity
Lladró started using an official logotype in 1960, but the identification mark has changed throughout the years:
Before the 1960s, marks were etched into the porcelain. The first  "L" was elongated to underline the Lladró name, and the words "Valencia," "Espanna," or "Made in Spain" are included.
Logotypes used from 1960-1970 were imprinted into the bottom of the figures.
Marks from 1960-1963 include "Lladró Espanna made in Spain."
Logotypes from 1964-1970 do not have the word "Espanna."
In 1971, Lladró started using the blue stamp familiar to  collectors. It reads "Lladró made in Spain" and has a logotype like a bellflower or tulip.
Limited-edition pieces have the number stamped into the bottom, for example: #98/500.
If a seller is not willing to show you the bottom of the figurine or if the piece lacks an identification mark, it is most likely counterfeit.
At Legacies Upscale Resale, we make every effort to authenticate our Lladrós. We always let customers examine them closely before purchasing.
What should you pay for secondhand?
Secondhand, small common Lladró figurines cost $10-20. Medium-size-and-complexity statuettes go for between $75 and $150. A complex piece will set you back $,1000 or more. The Don Quixote series, and retired and limited-edition figures go for top dollar.
Condition matters, but some pieces are so rare, they are valuable even if chipped or scratched.